Years ago it wasn't difficult to make some money on YouTube. There was a lot of methods how to earn ton of money, even without investing or with just some basic investments. The things are changed and now it's much more difficult to make yourself some good stable income. How to monetize YouTube videos in 2020? That's a good question, but I have an answer for you. Read this ultimate guide!
These are the highlights from my experience and I am just sharing a few of my favorite tactics to use on YouTube and to monetize YouTube videos.
People love to make YouTube complicated. They think they have to do millions of things in terms to make some money from it. Sure some of those things work, but if you try to focus on all of those things at once, especially as a starter, you WILL get overwhelmed.
How to monetize YouTube videos right now
What if I told you there is a much easier way to scale on YouTube? If you want to make money on YouTube, instead of focusing on million different things, you should focus on 3 things instead.
These three things are:
Trends
Video Series
Clickbait
I'll explain each one, then we will put them all together.
Trends
It's very useful to use trends because these are topics people are currently interested in. If you can get into a trend EARLY ENOUGH or right when it's hot, you can send a lot of traffic to your YouTube channel. This is key for exponential growth and it will give you an answer on how to monetize YouTube videos.
BONUS TIP: Look at that Coffin Dance for example. I saw a bunch of low quality videos, an average ideas and not very funny clips with many million views and a lot of money earned from monetizing that videos. You just need to jump in early enough…
Video Series
​Almost all successful YouTube channels have a video series in place. Before we break down what a video series is, let's compare it to "traditional posting".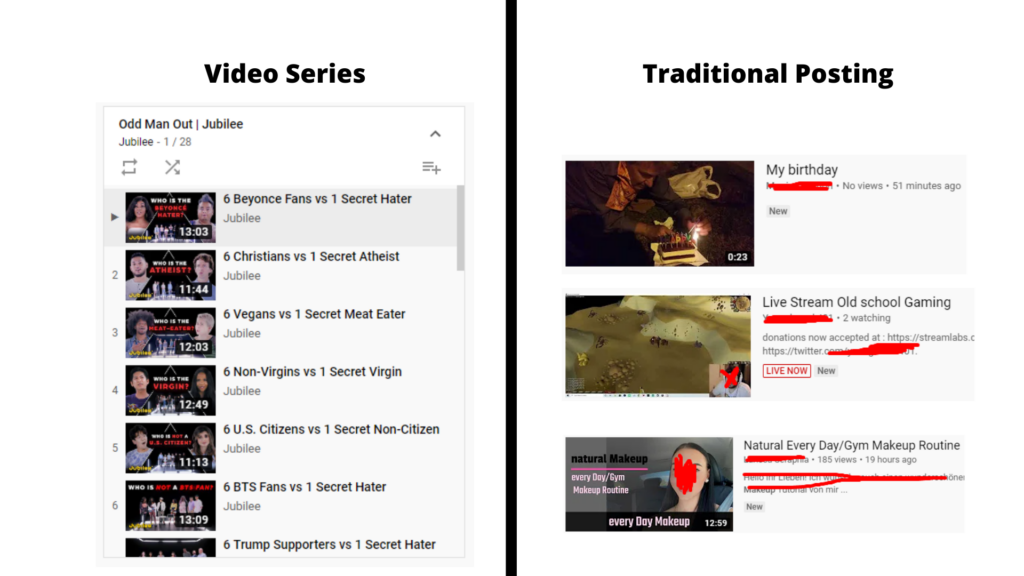 Traditional posting is where you upload different types of videos under different video structures. Most people, including starters, start posting to YouTube doing this, but there is a problem.
The problem is time.
You see, a lot of time goes into traditional posting. Let me break it down for you.
1. Brainstorming: First you have to brainstorm video ideas. For some this may take minutes, others may take days.
2. Preparing: Preparing takes time too. For some, this might require running to the store to purchase props or equipment. You may have to drive to a certain destination or schedule time to find guests.
3. Shooting: Sometimes when shooting your video, you may mess up so you have to film it again. Or maybe the idea seemed stupid so you have to start from square 1 again. Or even worse, you are missing a prop so you have to figure out a way to "wing it".
4. Editing: This one is different for everyone but for some, editing might take you only 30 minutes. Others may take up to 10 hours.
Now obviously, I listed the worst-case scenario outcomes above, but think about it. Whenever you tried out a new/different video idea or setup, didn't you come across ALOT of setbacks just to figure things out?
This is the issue with traditional posting. It just takes too much time which is why you can only focus on quality or quantity. You cannot have both when using traditional posting.
What about video series?
A video series is where you use the same/similar video setup for each video. All you need to do is switch out the topic/subject.
When you start a video series, you will run into the same problems you'll get with traditional posting. But after 3-5 videos, things should start getting easier and you will be able to systematize things.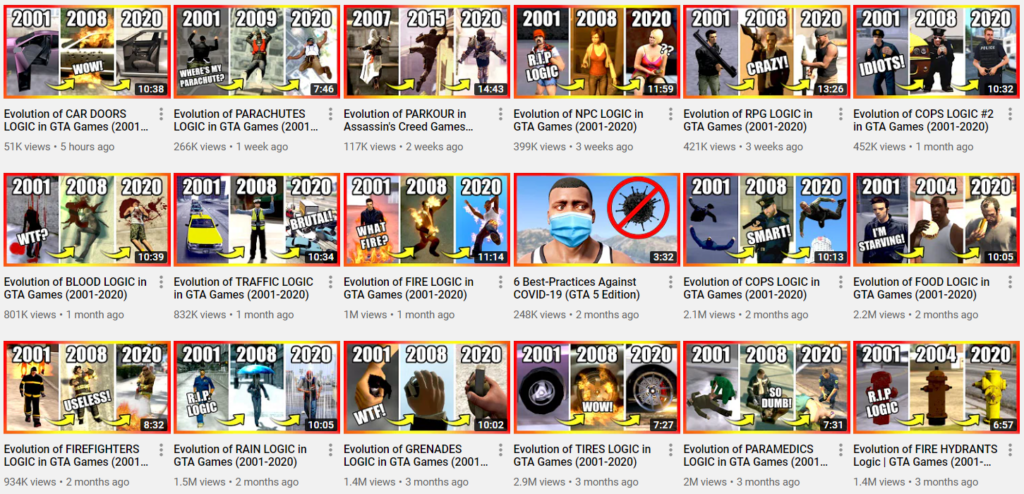 Having systems on YouTube is key, because it allows you to post high quality video in mass without sacrificing quality.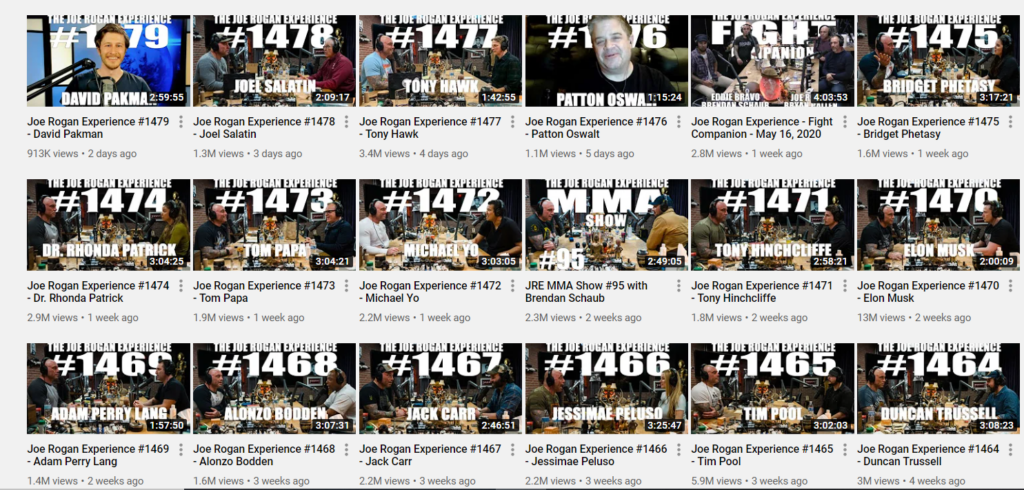 Good vs Bad clickbait
Good clickbait is when you show something in your thumbnails/title and when people click to watch your video, you actually show it to them.
This is good clickbait. The reason why good clickbait works so well is because of the law of reciprocity. The benefits of good clickbaiting is that the people will leave satisfied and will reward you with a like, follow or subscription.
Bad clickbait is doing the opposite of this. Bad clickbait leads to more dislikes, high drop off rates, and bad comments.
Learn three things you should be focused on. I'm now going to show you how to put together the pieces to grow your channel exponentially.
BONUS TIP: If you are serious about making money on YouTube you will need some proper tools. Most of it are very expensive for the beginners, even $100 per month for some, but you can find platforms for group SEO tools buy and join the other in splitting costs. Read this excellent Supremseo review: Is it safe and worth buying in 2020?
Building Video Series
When it comes to the video series on YouTube, you mostly want to have at least 3-5 series. If you only run 1 video series, people will get bored and will eventually stop watching it.
What I want you to do now is brainstorm at least 5 video series ideas you can do on your YouTube channel. Do not skip this step. It's very important.
Now create a list of different video ideas. This is where you want to place your trends at. The more trendy videos you post, you're chances of getting a viral video goes up exponentially.
After you are done doing this, you want to apply some level of GOOD click-baiting to these video before you upload them. This will help make your video stand out and improve CTR to make your video go viral.
After that, you just keep posting until you get your first viral video. I've used this method since 2015 and it still works for me today! That would give you an answer on how to monetize YouTube videos?
Is that enough to monetize YouTube videos in 2020?
Many people are asking 'How much does YouTube' pay? It depends on how good you monetize your channel. The old calculation was somewhere around $1,000.00 USD per 1 million views. But, depends of the ads quality, niche, viewers, trends, basically everything. It can be $10,000.00 USD, it can be just $100.
How to make money on YouTube without making videos?
Yes, it is actually possible to earn or make $100 to $300 a day without recording any video and uploading it to Youtube. There are many ways of doing this and I will explain some of them here.
The first one is to use what is called "Creative Commons". What this means is that there are some people who have uploaded their videos into Youtube but gives permission to a third party the freedom to use such videos. To do this, head over to Youtube, type in your desired keyword, when all the videos come up, click on the filter link, and here is what you will see:

Click on Creative Commons under "Features", you will see videos that fall under the category of Creative Commons, click on any of the videos, and scroll down to the description where you will see Creative Commons attribution licence (reuse allowed) as in the image below: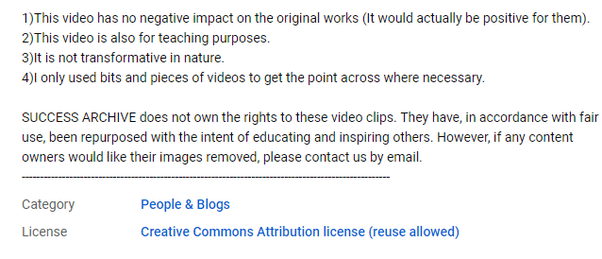 Youtube allows the reuse of videos with creative commons and even allows you to promote such videos using its Google Adsense. There are even some methods how to make money on YouTube without ads, but you will need to apply some blackhat IM methods.
You can add your voice
A second method is the use of online video maker that has tons of templates, images, videos that you can choose and make it your own. There are some that even allow you to add your voice to the videos.
There are other video makers too such as http://flixpress.com/, http://slide.ly/promo much more, simply research for more video creators through the search engines and choose the one that appeals to you most.
The 3rd method is to make compilation videos, this means you will look for videos that are similar in nature and free to use. Download the videos and compile them into one single video and upload it to Youtube, Vimeo or even Instagram (IGTV).
Hiring a freelancer
If the videos are funny or popular you get new subscribers and you can use Youtube Google ads to monetise such videos. To compile your videos you will need a video compilation software such as Open Broadcaster Software (OBS studio), Open Shot Video Editor and much more.
The last method I will discuss here is hiring a professional video recording freelancer to do the recording for you. There are tons of these freelancers on http://fiverr.com/, http://upwork.com/, http://peopleperhour.com/, http://guru.com/, http://freelancer.com/ and much more.
You don't have to record the videos yourself and you can still make money from the videos if you know how to make your videos go viral on the internet.
If you decided to go hard on monetizing your YouTube videos, you will need a new equipment. Check it out on Amazon!