Before we cover the best vintage record players you can buy right now, let's check some of the facts here. Vinyl is back. It's not shocking news for you. At least not today, but if somebody told you 20 years ago, at the end of the Millennium, that in a couple of decades vinyl be back in tremendous fashion, what would you think? You would say, "that guy is crazy." But he's not.
Vinyl is not the most favorite or the mainstream audio format, that's for sure, but it's still grown more popular every year. Sales are rising by as much as 50% every year; people are buying it. Many people I know already possess or planning to buy a record player. Or a turntable. That's why I decided to make a list of best retro record players you can buy. And turntables.
DID YOU KNOW: Edouard-Leon Scott de Martinville created a phonautograph in France in 1857. This device inscribed airborne noise onto the paper for visual study but could not play the sound back. Thomas Edison invented the phonograph 20 years later – in 1877. This device could record and play the sound. Alexander Graham Bell added wax to this phonograph so it could record waves of sound. The result was the first – graphophone. Exactly ten years later, Emile Berliner constructed the gramophone, the basis for the contemporary record player.
DIFFERENCE BETWEEN THE RECORD PLAYER AND TURNTABLE
When we are talking about that, many people don't know the difference. Let's make it clear now. A turntable is a standalone unit you can purchase. It's similar to a record player, but you don't get built-in speakers or an amplifier with it. That means you need to buy that as separate equipment and connect it to the turntable using cables (Most usually RCA).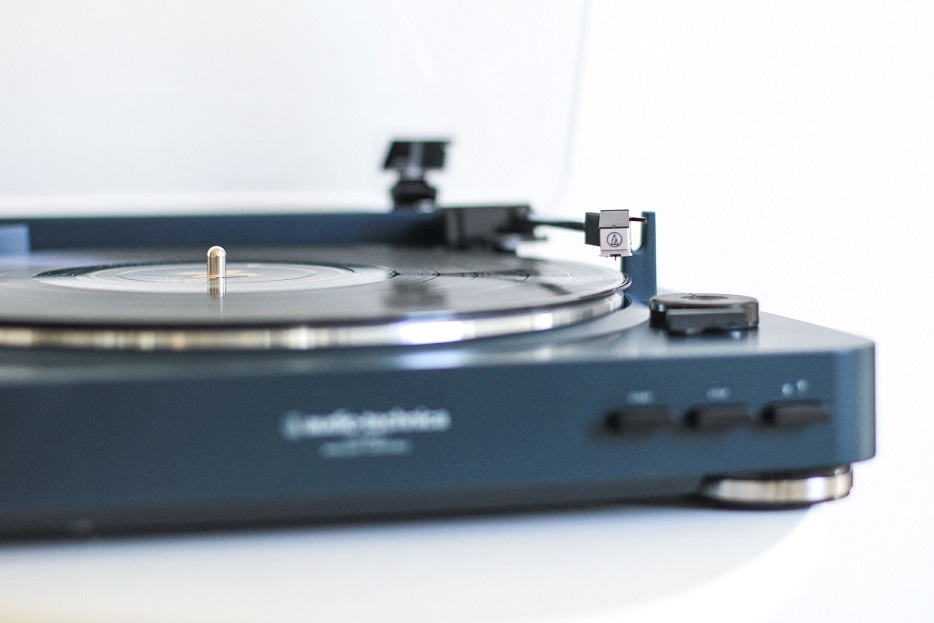 A record player is an audio system that includes turntable, speakers and amplifier. In the modern versions of record players, you can use all mainstream file formats such as MP3, WAV or FLAC and use features like radio, cassette or CD, depending on the model. Many people prefer it because they are, obviously, ready to play music instantly without additional investments.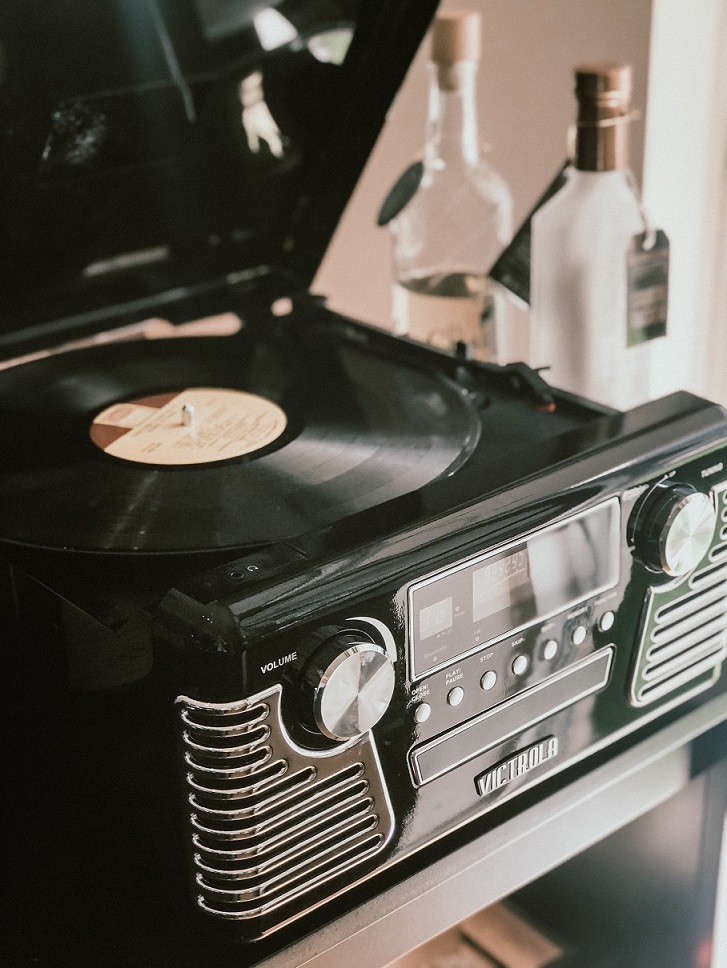 Of course, most audiophiles don't want to hear about record players, and they always like to pick every piece of equipment by themself. And it's almost always a high-quality setup.
Now, when you know the difference between the record player and the turntable, let me ask you a question. Have you decided if you want a record player or a turntable? Now, when you learned the difference, there are some good offers on both sides. You can take a look and decide whether you want a best vintage record player or turntable.
There are even some devices that look like a turntable, but they are record players. If you are starting a long-term hobby, it's the best you think about the top-rated turntable and if you want to have a hassle-free good-looking device with a decent sound, you should go for a record player. Of course, the whole story's extra sweet part is expanding your vinyl collection and searching for the rare and top quality pieces.
DID YOU KNOW: In 1895, the first record was released for the masses, and the gramophone record player was highly popular in the developed parts of the world, at least until the rise of radio.
Like with all electronic devices – TVs, audio equipment, gadgets, hardware and other, you mostly get what you pay for when buying a record player or turntable as well. You need to think about what you would want to have, and you need to set your budget. Check our list of the best retro record players and turntables you can buy on Amazon right now.
Our site is supported by its audience. When you purchase through links on this site, we may earn an affiliate commission. Learn more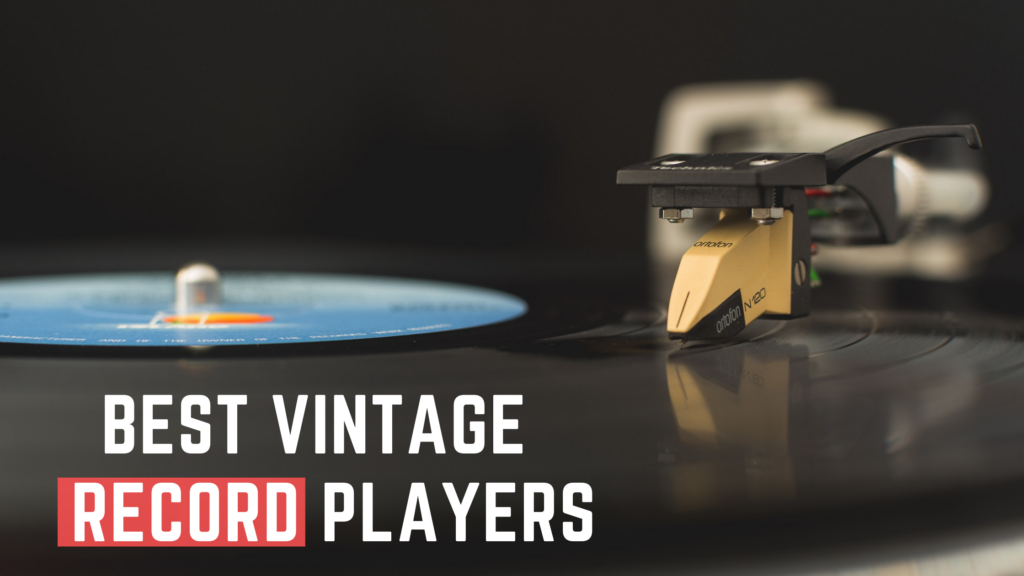 Victrola Nostalgic 6-in-1 Bluetooth Record Player & Multimedia Center
One of the most popular and best vintage record players is Victrola Nostalgic that is more like an entertainment center than the record player alone. With this very attractive device, you can listen to vinyl records, CDs, cassettes, radio, or even stream the music from your mobile phone via Bluetooth. It's a 3-speed record player that claims to have upgraded premium sound quality with minimum vibrations.
---
This gorgeous record player is an imitation of an old gramophone device, and it looks beautiful. It features a fine wood base, and highly skilled artisans handcraft it. Besides it's a sophisticated design, it is offering high quality and rich sound. It is built with 2x20W stereo speakers and a subwoofer located in the base. The brass horn is also equipped with a 10W tweeter. Besides many features, you can stream the music from your phone via Bluetooth and AF/FM radio built-in.
---
Victrola 50's Retro Bluetooth Record Player & Multimedia Center
This this 50s retro look, this record player will certainly look very fancy in your home. But, it's only the design that is vintage. With this piece of device, you can play vinyl records, MP3s, CDs, AM/FM radio, you can connect your phone via Bluetooth and there are a headphone jack and aux jack for an extra pair of external speakers. You will have all controls you need.
---
This nostalgic looking record player is coming in three attractive colors and can offer you everything that one modern record player should have, from Bluetooth connectivity to the good sound quality. It's got full-range stereo speakers and CD player, side-mounted cassette deck and AM/FM radio. It received really good reviews around the web.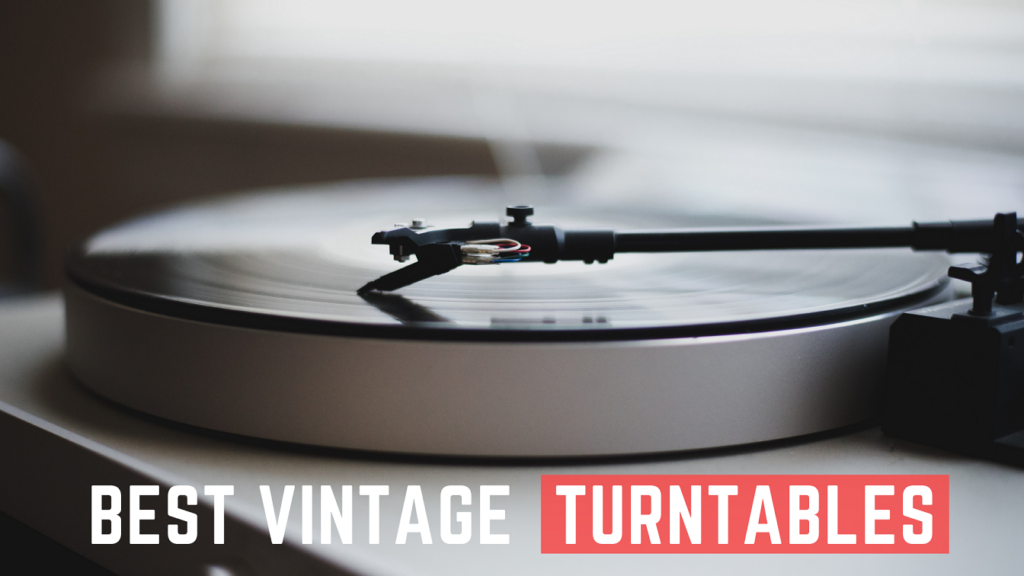 Audio-Technica AT-LP120XUSB-BK Direct-Drive Turntable
This turntable model, released by the name with high reputation, earned only the best reviews around the web. It is a fully manual device with dynamic anti-skate control, balanced S-shaped tonearm with hydraulically damped lift control, and variable pitch control with quartz speed lock.
Pro-Ject Debut Carbon DC Turntable with Ortofon 2M Red Cartridge
This high-quality minimalistic carbon turntable will bring you great sound and super value, as the price for such a quality product is really not very high. People are considering this device as one of the best turntables for those who are not rich. It's got Auto start, Auto return, simple RPM change. There is virtually no setup time, and you can enjoy your vinyl records instantly.
LP&No.1 Portable Suitcase Turntable
This turntable is actually a record player. Yes, we know it sounds strange. It's a turntable in the suitcase, but it's got, built-in stereo speakers. It's coming with a belt-drive system and a 3-speed vinyl player. We can't say this is exactly the most retro model we've seen, but it's definitely cute and perfect for the hipsters who are always on the move.
This device brings high-fidelity playback and claims to have an adjustable counterweight & anti-skating force. It's got top ratings around the web and besides good connectivity and wireless streaming, you can connect this turntable to your PC and encode vinyl audio into MP3 so that you can save it into your digital storage.