Fly Free motorcycle is a start-up, Motorcycle Company founded in California on May 24, 2016. The company mainly focuses on making motorcycles based on scrambler models. The Fly Free motorcycle can be personalized, and you can put together 80 different combinations. When you want to choose your motorcycle, you can select the model, body-color, saddle color, and accessories you want.
The Fly Free motorcycle is the most classic electric motorcycle in the world, optically perfect, fun to drive, and a clear winner for city trips. It was introduced by childhood friends who enjoyed racing and participating in enduro and motocross.
What stands out about these motorcycles is their appearance. It's inspired by the classic scrambler style motorcycles with minimal frills, thick tires, and a simple, rugged feel.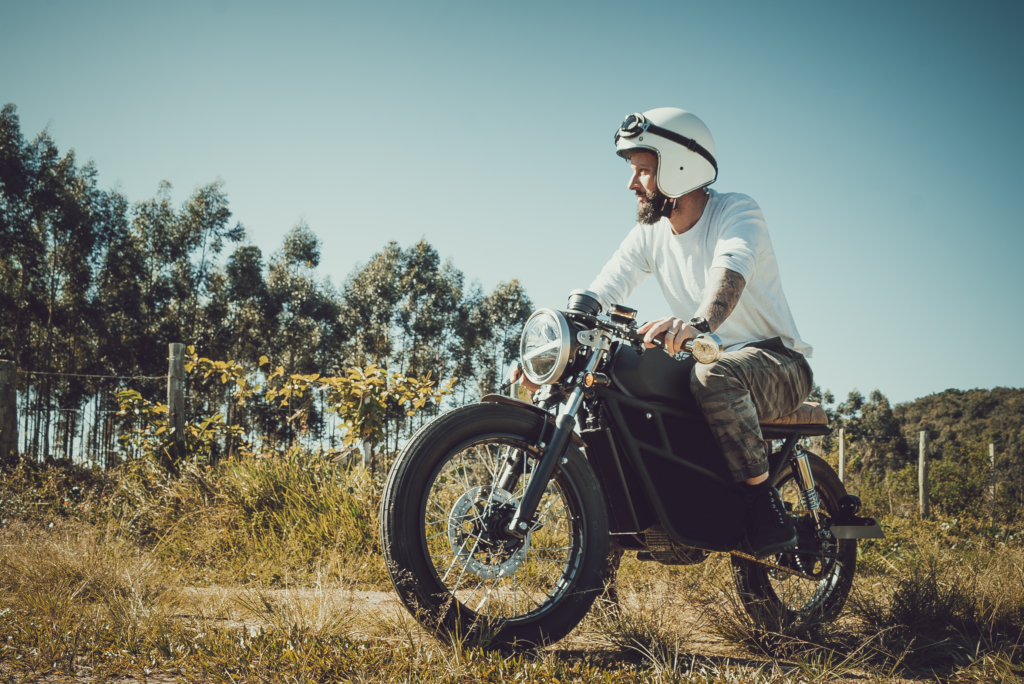 Types of Fly Free Motorcycles
Since 2016, the team has been developing a prototype to reinvent and handcraft 3 motorcycles from the 1950s: the Scrambler, the Brat, and the Cafe Racer to offer riders a beautiful motorcycle that is pleasant to handle and without gasoline.
All three motorcycles are based on a common combination of frame, motor/battery, and suspension and offer the rider a choice of colors as well as the option to use hipster-style saddlebags.
The bikes are powered by an LG lithium battery that can be removed from the bike. This likely means you can take the battery with you to charge it.
The Fly Free motorcycles all have these riding modes: eco, city, and speed. It is not specified whether the eco mode includes regeneration of the idle battery as with most e-bikes. However, Fly Free motorcycles also spin without clutches or gears. Here are the types of Fly Free motorcycles:
Fly free smart old motorcycles
Fly free smart desert motorcycles
Fly free smart classic motorcycle
Fly free Smart Old-style motorcycles
The Smart Old-style motorcycle offers three driving modes: Eco, City, and Speed. Note that the range naturally decreases with increasing speed and acceleration profiles. The top speed of the bike of 81 km/h is only possible with two batteries. With a single battery, the top speed is limited to less than 40 miles/h.
The Fly Free smart Old motorcycle is powered by LG batteries mounted under the dummy gas tank. Each battery has a range of 80 km (50 miles) in Eco mode, which means two packs should be enough for 161 km (100 miles). The batteries are also rated for 700 charge cycles before they reach 70% of their original capacity.
The fly free smart old motorcycle is rated for 3kW continuous power, although its peak power on throttle and climbing is likely to be higher.
Features
It features low handlebars, retro road tires, handlebar end mirrors, and an oversized round headlight.
The fly free smart old motorcycle has a retro look because it features a unique LED headlight
It is available in white, black, blue, or silver colors
It also has a smart key system that gives your smart electric motorcycle more protection and security
Fly free Smart Desert motorcycles
The Smart Desert bike is the most classic electric motorcycle under the fly free motorcycle brand, optically perfect, fun to drive, and a clear winner for city trips.
The Smart Desert is equipped with old-fashioned off-road tires and a wider handlebar with a bar-up function. The clean design allows the bike to seamlessly go from curve to curve, climb mountains, and cross muddy terrain.
Also, it is integrated into the 3000 W electric motor. The motor can drive the bike up to 80 km/h (50 m/h). The motor has three different speed modes such as eco, city, and speed and offers more comfort at low, medium, or high speed.
Features
Headlights- The LED headlights give it a modern look and excellent lighting.
Rear light- The round LED rear light also gives a stylish retro look.
Another great feature is the easily removable batteries. Equipped with lithium batteries from the LG brand, it offers a range of up to 80 km. After 700 cycles the battery retains 70% of its original charge capacity.
It also has an anti-theft mode that will stop all operations if your bike is stolen. The app also notifies you when the motorcycle's battery drops below 50%.
Also, the team has developed a smart application that is compatible with your Android and iOS. This app locks / unlocks via Bluetooth and gives tamper notification within 50 meters.
It has a USB charging port right next to the speedometer, so you can charge your electronic devices on the go.
The rounded model's speedometer features a retro design that shows speed, battery level, and distance. It also shows the temperature of the motor, controller, and battery. With a clear digital display and a beautiful blue face, your speedometer will keep you updated.
Fly free Smart Classic motorcycle
The Fly Free Smart Classic electric bike has a predominantly racing like the look that gives the bike a rebellious and a unique appearance. These models differ in the position of the lower handlebar, practically in line with the mono saddle.
Features
The Fly Free Smart Classic bike features a LED headlight in "X" format brings modernity to the motorcycle and of course a large beam of light for your safety.
The well-rounded model offers a retro, marking speed, battery charge, distance, engine temperature, regulator, and battery.
It features a horizontal LED rear light that gives it a stylish and modern impression.
The Fly Free Smart Classic bike have the option of using two battery kits, which also doubles their autonomy.
It features a 3000W electric motor that offers more comfort at low, medium, or high speed. By using two battery kits, the engine can reach a top speed of 80 km/h. Another advantage of the electric motor is that it is easy to operate without a gear lever or clutch lever.
It also features a smart key system that gives your smart electric motorcycle more protection and security, and a USB port for charging devices. Smarts has a feature-packed application that works on both Android and IOS.