There are several reasons why the "No eligible devices for app install" message appears while trying to install some app from the Google Play Store. It's always annoying when there's an issue in the simple procedure which should have been very easy to do.
You just tried to install some good game of a piece of software on your mobile device, and you got the message "No eligible devices for app install". You don't know what to do, you don't see an obvious solution, and you have to search for help on Google.
Based on many users experiences, we searched and found the best possible solutions, because (well, you probably know) it's not common in the tech world to find a solution at first.
We will first try to check the Google Play Store. Please, check if you have the updated version of Google Play Store as the problem with "No eligible devices for app install" can happen because the Play Store may be outdated.
Clear Google Play Store Cache
You have to clear the Play Store from running in the background of your device.
Go to the SETTINGS on your Android device
Select APPLICATION MANAGER option
Click on the GOOGLE PLAY SERVICES
Click on the CLEAR CACHE button
Start the Google Play Store again
There is a high probability that the error should now be resolved.
If not, let's first check what device do you have. It must be compatible Android phone or tablet or a compatible Chromebook. You can't use computers or laptops that aren't Chromebooks, because they run different Operating systems like OSX on Mac or Windows on PC. Also, you will not be able to use Amazon devices as Amazon decided to block them from accessing the Google Play Store.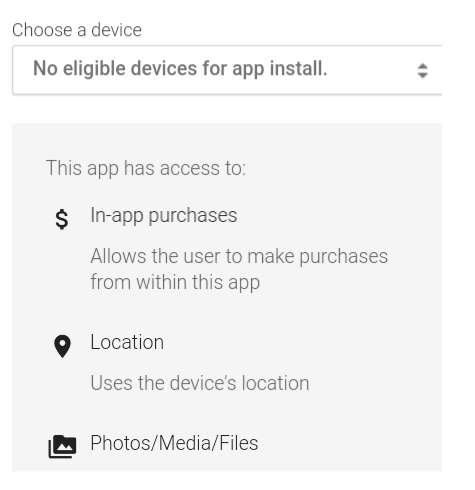 Here is the full list of supported devices
Supported Android devices
Supported Chrome OS devices
BONUS TIP: It could also be possible that the app you're trying to install is available in a specific geographic location only, like the USA or Europe. Users from other regions will get the message "No eligible devices for app install." Also, have you tried signing out of all devices and then signing into this device to see if that helps? Sometimes it can be as simple as that.
If that didn't help, don't worry, we still have some possible solutions for "No eligible devices for app install" issue.
Force stop and clear data
Make sure your device is connected to the internet. It would be helpful if it is a strong internet network. It can be mobile data or Wi-Fi.
First force the Google Play Store to stop, and then you have to clear data for the Store application. SETTINGS -> APPS -> GOOGLE PLAY STORE -> FORCE STOP -> CLEAR DATA
Now select the Force stop and Clear data for Google Play Services. SETTINGS -> APPS or APPLICATION MANAGER -> GOOGLE PLAY SERVICES -> MANAGE SPACE -> FORCE STOP -> CLEAR DATA
We cleared cache from Google Play Services at the beginning, but now you have to clear cache for all apps. SETTINGS -> STORAGE -> CLEAR CACHE
Turn on your Download Manager. SETTINGS -> APPS or APPLICATION MANAGER -> After swiping left you will see DOWNLOAD MANAGER -> ENABLE (Note: If you see 'disable' button, it is already turned on, so you don't have to do anything.
Install System Updates. SETTINGS -> ABOUT or SYSTEM UPDATE. After that just follow the instructions if needed to do an update.

You can now try your download again.
If all these instructions are not helping, let's try with removing and adding your Google Account again.
Remove and add Google account
Open Settings
Go to ACCOUNTS, select GOOGLE and then account you want to remove
Click MENU icon in right top corner
Select REMOVE
Restart device
Open Settings again
Under ACCOUNTS select ADD ACCOUNT -> GOOGLE

When you buy an app on Google Play, you can use it on any Android device without paying again. But, you must have the same Google Account on it, if you want to use it simultaneously. It can be one or more Android devices, it can be new Android device or you can reinstall the app you bought but deleted.
As we mentioned, you can't install the apps on laptops or computers, but it is possible if you have Chromebook. These are the instructions to install the apps on your Chromebook.
Installing apps on Chromebook
Open play.google.com on your computer
Open APPS -> MY APPS
Select the app you want to install
Click INSTALL
Select the device and click INSTALL