Recently we saw many questions related to the Minecraft stonecutter. How to make a stonecutter? What does the stonecutter do? Is it just a decoration block? No it's not just a decoration block. Minecraft stonecutter is being used to craft stone-related blocks, but in much smaller and more precise pieces than crafting. After you try it, you will notice how useful this tool can be in your game.
Where can you find stonecutter in Minecraft
The official descrition of the Minecraft stonecutter would go something like this – the stonecutter is an item that can be found in a Village in the Mason's house. You can use it to craft various stone items as an alternative to crafting them. The stonecutter is now fully functional in Java Edition as well as Pocket Edition, Windows 10, Xbox One and Nintendo Switch.

What can you do with stonecutter
Stonecutter in Minecraft will give you more efficient cutting. The stone cutter provides efficient 1:1 ratio of the blocks. If you decide to go with crafting it can give you some different results. Cutting the stone with Minecraft stonecutter is like playing from the Roblox Piano sheets, you can press the buttons and get the results, but you still need to have skills to do the job right.
BONUS TIP: Stairs are very useful for stonecutting, since usually you get some less stairs than blocks when trying to craft them.
Also it is being used as a work station for villagers and it is possible that they can give you some building blocks. That will be useful if you haven't found many biomes yet.
Well, it is obvious now that the main reason to use stonecutter is because you have cheaper recipes. It is easier to get slabs and stairs. Make it like this – 1 stone block you can get 2 slabs and 6 stone blocks make 6 stairs. Cheaper recipe for stairs and easier to make slabs.
EXAMPLE: "Stone stairs Crafting table" – 6 blocks for 4 stairs vs. stonecutter – 6 blocks for 6 stairs. So, it means stonecutter in Minecraft let you use 1 block for 1 stair. Efficiency at its finest.
Maybe you are playing on your iPhone or iPad, but you might notice that the things are little different than on your desktop. One major difference is that you are not making certain types of items on the crafting table. Because of that you need to gather the ingredience for a stonecutter and then you have to craft it.
Excellent Encyclopedia for Minecrafters
The procedure of crafting is easy – you just need to have 4 cobblestone and need to click on the stonecutter button. Crafting it you will get 1 stonecutter.
If you want to learn many hacks available in Minecraft you can try to find it in resources like guides or books. We can suggest you to check The Ultimate Unofficial Encyclopedia for Minecrafters: An A – Z Book of Tips and Tricks the Official Guides Don't Teach You.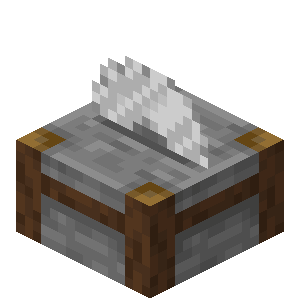 Our site is supported by its audience. When you purchase through links on this site, we may earn an affiliate commission. Learn more