There are so reasons why you need to look at how to turn up volume on Samsung TV without remote. Maybe you lost your remote, it happened to me once – and I never found it. It was a real mystery, but, who knows, maybe one of my friends took it. Or my kid's friend. Perhaps the batteries are dead and you didn't have a chance to replace it yet. Maybe you spilt a beer or water on the remote and it doesn't work anymore. Never mind, the situation is critical, you have to turn up the volume on Samsung TV without remote.
Good news is: There are many ways you can control your Samsung TV volume without remote. You can also do some other operations like to turn on Samsung TV without remote. The most important thing is to check the exact model of your Samsung TV. Of course, you don't have the remote, so you can't check it in the software, but you can easily find it on the back of the TV.
Install the Samsung Smart App
If you bought your Samsung TV after 2010 the good news is that you can turn your mobile phone into the remote. For the devices from 2011 until 2017 you will need to use Smart View app, for TV models from 2016 until 2020 you will need to install SmartThings app. This app you can use on most of the new cell phones and tablets.
You may think it's not the easiest way to turn the volume up on Samsung TV without remote, but eventually, you will be very happy, especially if you are kind of guy who is often losing or destroying remotes. With Smart View or SmartThings apps you can control your TV the same way you do with the classic remote.
The easiest and the fastest way to turn the volume up or down on Samsung TV without remote is to find control buttons. Yes, I know you tried that first and you didn't find it. You're not the first who experienced that issue. But, all Samsung TVs have a TV control button.
Sometimes these buttons are called TV Controller, Jog Controller or Control Stick. With the control button you can turn on the Samsung TV, change the volume and source input. Also, most of Samsung TV models will allow you to access this Menu, Settings or the Smart Hub. You will need to check in your TV manual or online User Manual (not the e-manual) for the location of the control button. That's why I told you to check for your TV model, as the control button location varies from model to model.
BONUS TIP: For many users, the most difficult part is to locate the control button. When the TV is turned off, but still have power to it, you can look carefully and you will see a little red light. It should be located somewhere around the frame. In most cases, where the red light is, the control button is there as well.
But, if you are still wondering how to turn up volume on Samsung TV without remote, below are the main three places to look on your Samsung TV or you can check this Samsung support web location.
How to turn up volume on Samsung TV without remote with buttons
1. Under the front panel in the middle
At this location there are two possible options. There could be a single button or 5 buttons. If you have to access the TV Control stick on The Frame TV models, you will need to remove the frame from the bottom of the panel first, but be careful not to use too much force. There is only one control button on these models.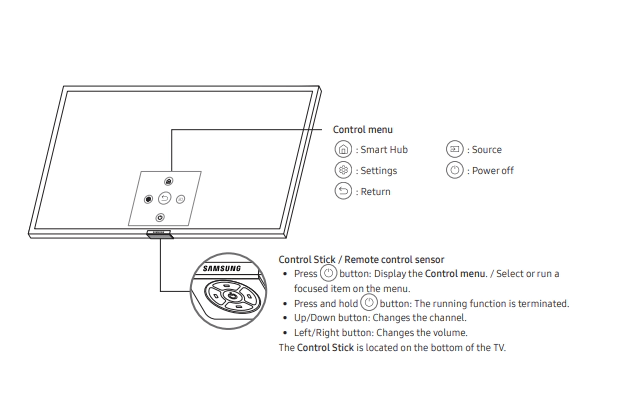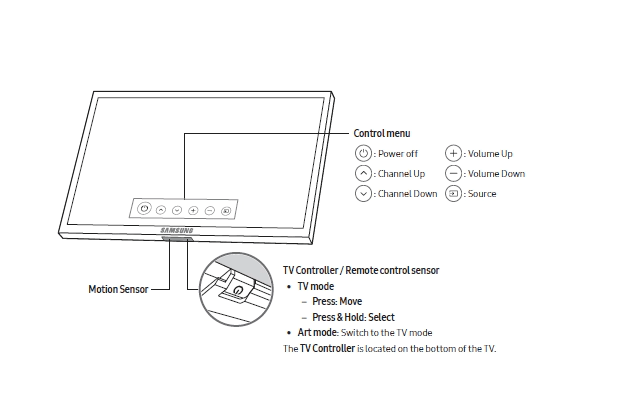 2. Under the front panel on the side
Some models from 2015 until 2020 have their control button located on the right-hand side bottom. There is also only one control button here. The shortest instructions to make it work is this one: Single button press for the menu, single press to move along the menu and long press to make your selection.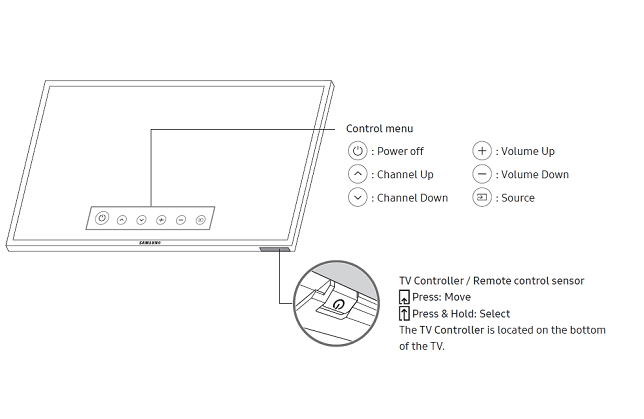 3. On the back of the TV
This is the most common and the most probable location of the Samsung control button. It is mostly located in the bottom right corner – when you're looking at the TV. It feels like a joystick and can move in four directions. Center button is to turn the TV on or off. Then you can use it as a joystick to find your selection and then press center button to confirm.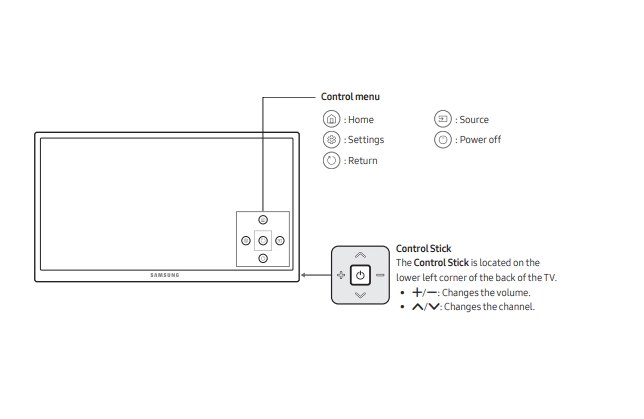 We hope that you managed to find a control button and that you managed to find how to turn up volume on Samsung TV without remote. You probably know you can always check for the Universal Remote, it shouldn't be too expensive and it can help you control some other devices in your home as well.