Our site is supported by its audience. When you purchase through links on this site, we may earn an affiliate commission. Learn more
Amazon Prime Day 2020 has been announced for October 13 and 14, and it will be one of the biggest online shopping days of the year. This two-day shopping event will deliver, listen to this, over ONE MILLION deals across every category on Amazon. We are really excited about this year's Amazon Prime deals, because we will see some mind-blowing offers and some of them are already available.
WHAT DO YOU NEED TO KNOW: Below you can find the best Prime Day 2020 early deals from September 28 until October 12 and for the main event deals please check the main page with dozens of BEST DEALS AVAILABLE! ——————–> CLICK HERE
---
DEALS FROM OCTOBER 12
(The prices below were correct at the time this post was updated on October 12 2020 as part of the Early Prime Day deals)
⚫ $150 off Apple MacBook Air (13-inch, 8GB RAM, 256GB SSD Storage) – Space Gray (Latest Model) – Price: Only $849.99
TIP: It's the lowest price we've ever seen
⚫ $50 off Apple AirPods Pro – Price: $199
⚫ 32% discount on Roku Premiere | HD/4K/HDR Streaming Media Player, Simple Remote and Premium HDMI Cable. Price only $27
DEALS FROM OCTOBER 6
(The prices below were correct at the time this post was updated on October 6 2020 as part of the Early Prime Day deals)
⚫ Toshiba 32-inch Smart HD Fire TV Edition TV for $119.99
⚫ Toshiba 55LF711U20 55-inch Smart 4K UHD with Dolby Vision TV – Fire TV Edition
⚫ Insignia 43-inch Smart 4K UHD Fire TV Edition TV for $199.9

⚫ $45 off from Echo Show 5 – only $44.99
⚫ Echo Auto and 6 months of Amazon Music Unlimited for $19.99

⚫ Blink Mini indoor cameras: One for $24.99 and two for $49.98

⚫ Echo Show 5 and Blink Mini for only $49.99! Or you can swap Blink Mini for Smart Plug or take only Echo Show 5 with 1-year Food Network Kitchen Subscription or 3-months Amazon Kids for $44.99
⚫ $70 or more on Kindle Paperwhite Essentials Bundle
⚫ $60 off Certified Refurbished Ring Video Doorbell Pro, with HD Video, Motion Activated Alerts, Easy Installation
⚫ $100 off Beats Solo Pro Wireless Noise Cancelling On-Ear Headphones – Apple H1 Headphone Chip – Price only $199.95
⚫ $35 off Echo Dot (3rd Gen) Kids Edition – Price only $34.99
⚫ Exclusive Prime Card offers
EARLY DEALS FROM SEPTEMBER 28
(The prices below were correct at the time this post was published and updated on September 28 2020 as part of the Early Prime Day deals)

⚫ Audible 50$ off a 1-year subscription of Audible Premium Plus. Audible members are getting access to the Plus catalog. It is featuring an incredible library of more than 10.000 audiobooks and podcasts at no extra cost.

⚫ Kindle Unlimited new customers get 50% off a six-month subscription.

⚫ Various discounts across the categories on Amazon like Home, Toys and Tools.

⚫ Prime members will receive 15$ off their first order of $50 or more from Amazon Fresh.
⚫ TWO Echo Dot devices for the price of one – for $39.98. You need to use the code DOTPRIME2PK at the checkout.
⚫ Get $100 off the Fire TV Recast, over-the-air DVR, 500 GB. Exclusively for Prime members. Price: $129
⚫ All-New Toshiba 43LF421U21 43-inch Smart HD 1080p TV – Fire TV Edition, Released 2020. Price: $179.99
⚫ Amazon Music Unlimited 4 months for only $0.99
AMAZON PRIME DAY 2020
We did a research and we have everything you need to know about Amazon Prime Day 2020. Check the facts, tips and early deals.
WHEN?
Amazon Prime Day 2020 kicks off at midnight PT on October 13 and ends at 23:59 PT on October 14.
WHERE AND FOR WHOM?
Amazon.com/primeday for Prime members in the U.S., U.K., Spain, Netherlands, Mexico, Singapore, U.A.E., Japan, Italy, Luxembourg, Germany, France, Canada, China, Australia, Belgium, Austria – and for the first time – Brazil and Turkey.
BONUS TIP: Just make sure you are a Prime member so you can participate in this huge event. If you are not a member, sign-up HERE for a 30-day free trial. If you need to know how much it is worth, J.P. Morgan analysts calculated that Prime is worth almost $800 annually what is nearly eight times more than what you pay for it.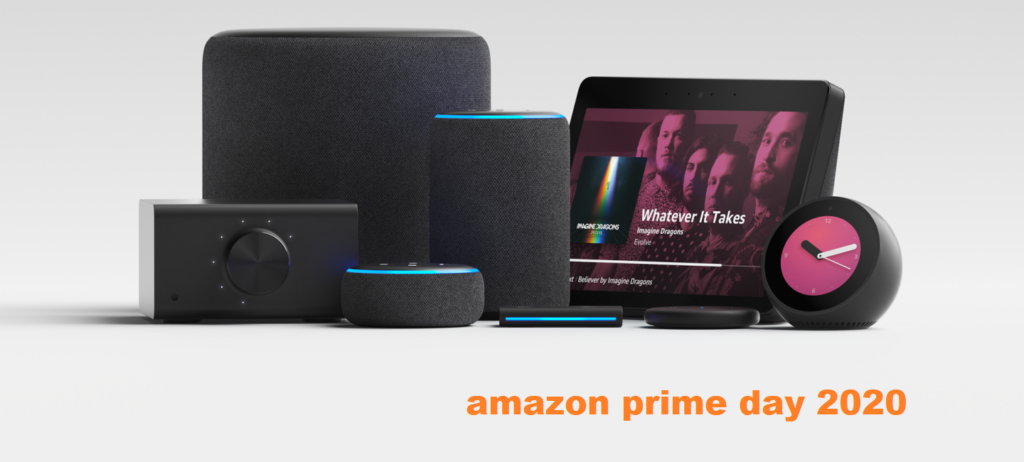 WHAT?
Members will find over million deals across every category, including products for the holiday season, including toys, fashion, beauty, electronics, TVs, gadgets, and Amazon Devices.
TIPS FOR AMAZON PRIME DAY 2020
⚫ Until October 12, Amazon will offer $10 credit to use during the Prime Day event to Prime members who spend $10 on items sold by select small businesses in Amazon's store. Check HERE for more information.
⚫ Members can use their $10 credit for purchasing almost any product on Amazon during the Prime Day.
⚫ Shop at Amazon Live as you will be able to grab some special deals from small businesses across Amazon. It will be a chance for users and buyers to hear directly from business owners.
⚫ Amazon already launched a bunch of excellent early deals you can shop now.
⚫ New Prime members who sign using the Echo device will receive $5 Amazon credit. You just need to say "Alexa, sign me up for Prime".