Our site is supported by its audience. When you purchase through links on this site, we may earn an affiliate commission. Learn more
When it comes to Audible language audiobooks, some things are more important than the ability to listen. This is arguably the most difficult of the three main aspects of language learning – speaking, listening, and writing, and it takes the most time and energy to master.
One way to improve your listening comprehension and improve your pronunciation is by listening to audiobooks.
There is an incredible collection of Audible language learning audiobooks available in a big number of the world's different languages. From French to Russian and Mandarin Chinese. Whether you want to learn vocabulary or get a more detailed lesson, choose from a variety of structured courses designed to help you learn different languages.
There are many available language courses such as Arabic Audiobooks, French Audiobooks, Spanish Audiobooks, Russian Audiobooks, German Audiobooks, Chinese audibooks, and many more. Just listen to your audiobook and learn whenever you feel free either on your way to work, on your next flight, while doing the dishes or walking.
How to find Audible language learning audiobooks
Audio language lessons are a great way to learn a language. Not just because they are practical on the go, but because they work.
Your brain is wired to learn language by listening. Language is above all something that is spoken that we think about aurally.
Because of this, it is easier to internalize a new language by listening than by reading it. It is easy to remember a language based on its sound. So when you study in audio language classes, you are doing your brain a service by letting it focus on the part of the language that is most important to it.
What is really great, you can also do many other things while listening to audiobooks and learning new languages.
There are literally thousands language learning audiobooks and hundreds of different brands or authors availabe with Audible, it is very difficult to opt for one if you don't have enough experience, recommendation from a friend of family or simply from the internet, or know exactly what you want.
To make it easier for you, here are brief instructions on how to find a department with language learning audiobooks on Audible:
Got to Audible.com or log in to your Audible app
Select Browse, then Audiobooks
Click to see all categories
Under the Education & Learning click on Language Learning
You will be taken to the home page of all Audible language learning audiobooks. The design is simple and you will immediately see languages available and the number of audibooks available for each language.
Audible will help you choose your language learning audiobook by offering a Best Sellers category. There are accurate ratings for every audiobook, so you can browse easily through the top rated title.
We selected some of the most popular Audible language learning audiobooks and series you can find right now:
Pimsleur is an ideal audio app for learning to speak and understand a new language. It is one of the best language learning programs. Pimsleur comes into your head and stays there, that's what the authors say. It teaches pronunciation and listening and the program has a grip that many competitors miss.
With Pimsleur, you can choose from audiobooks in 50 languages ​​such as French audiobooks, Spanish audiobooks, Italian audiobooks, Chinese audiobooks, etc. There are also programs for learning English. Although Pimsleur started as an audio-only learning program on tape, it has come a long way in recent years to develop its online offerings, including a version with interactive exercises for specific languages.
Pimsleur is an audio language course organized by level and consisting of 30 minutes of lessons. The levels are designed to be taken from lesson to lesson once a day.
The Pimsleur method is a well-documented and organized approach to language learning using techniques based on actual linguistic and psychological research.
If you work actively and regularly, you're speaking, reading, and listening skills will improve in your target language and probably faster than other popular courses.
The Pimsleur website offers a free week of full access to their course. Working through the lessons is the best way to find out if Pimsleur is a course that is right for you. So check out the one-week free trial.
Pimsleur offers Albanian, Arabic (Eastern Standard, Egyptian and Modern), Armenian (Eastern and Western), Cantonese Chinese, Mandarin, Croatian, Czech, Danish, Persian Dari, Dutch, Persian Farsi, Finnish, French, German (German and Swiss), Greek, Haitian Creole, Hebrew, Hindi, Hungarian, Icelandic, Indonesian, Irish, Italian, Japanese, Korean, Lithuanian, Norwegian, Ojibwe, Pashto, Polish, Portuguese (Brazilian and European), Punjabi, Romanian, Russian, Spanish (Latin America and European), Swahili, Swedish, Tagalog, Thai, Turkish, Twi, Ukrainian, Urdu, and Vietnamese.
Pros
Excellent for learning to speak and understand spoken languages
Superbly structured
Programs for 50 languages audiobooks like French audiobooks, Spanish audiobooks, Italian audiobooks, Chinese audiobooks, plus ESL courses
Cons
A primarily audio service with PDFs; does not teach reading or writing
It is expensive
The digital version with interactive exercises only includes eight languages
Conclusion
Pimsleur is one of the oldest and most popular audiobooks for learning a foreign language. Their language courses and methodology are unique, have a solid academic background, and a real reputation for producing results.
Historically, some of the biggest criticisms of Pimsleur have centred on its high price and lack of reading material. In the past, these were notable weaknesses in the course.
Language Learning with Paul Noble
Another very popular Audible language learning audiobooks. Language expert Paul Noble has a really easy way to teach you how to speak one of more different languages. His tried-and-tested method is top quality in the world of language courses and probably that's why his audobooks are among the top rated and best selling on Audible.
Paul Noble left school without the ability to speak a different language. He has found that the traditional learning methods left him confused and incapable to learn anything. He was sure that there must be a better way to learn and he spent years to develop his unique method of learning languages. His primary goal was to cut all the memorisation and stress. And he made it. Now, he is one of the most famous language learning menthors in the world – and he prides on never having student fail.
Unique method of learning
Quick and easy way to teach you different languages
Courses for beginners and even for kids
Learning the essentials for every language
You can learn Spanish, Italian, French, German and Mandarin Chinese
Hours of audio related with everyday situations
You can master different tenses – that are practical, fun and applicable
Listen, interact and learn wherever you are
Pros
It is very convinient to study languages via Paul Noble courses
Instructors does a good job at keeping your confidence high while learning
It is not difficult to remember lessons and materials
The price is cheaper than the most of the top rated competition, but this is not important if you us Audible credits
Cons
The lessons are not very useful if you inted to learn language grammars in detail
Paul Noble course is less engaging than Michel Thomas
Each lesson will teach you limited new language vocabulary and you will need to search for additional resources after completing the course, if you want to improve more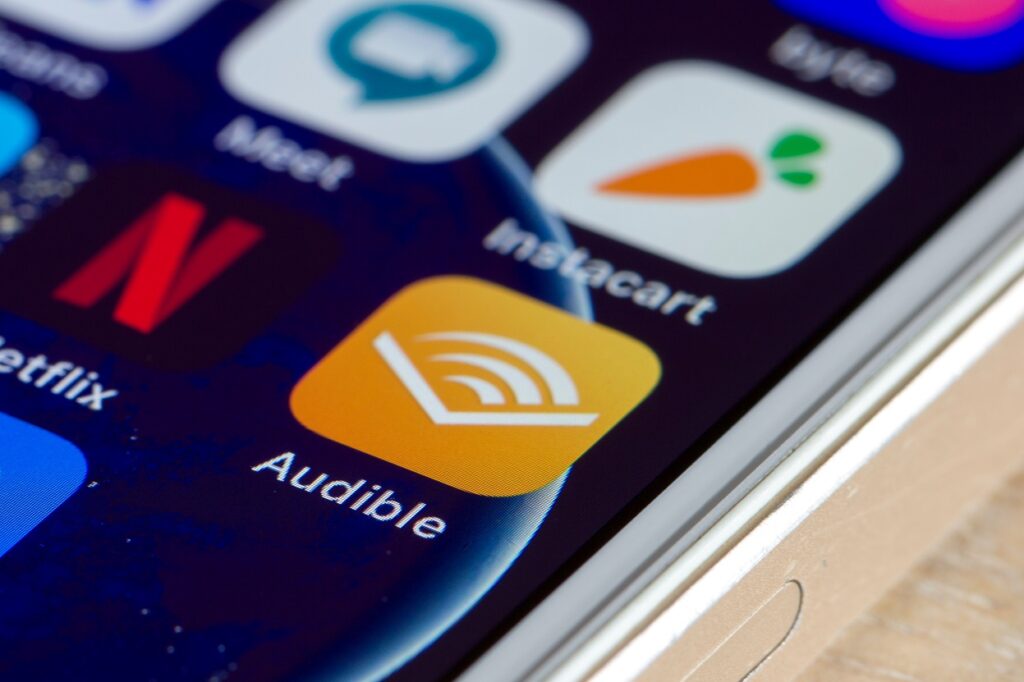 Audible deals right now
✅ Audible Premium Plus $50 off a 1-year subscription
✅ 30-Day Free Trial and get 2 FREE audiobooks
✅ Audible Premium Plus 30-Day Free trial with 1 free credit a month and access to Plus catalog.
✅ 30-Day Free Trial and then $7.95 a month
This Language Learning app you won't find on Audible, but it's the best alternative if you want to use the top quality language courses as an Android or iOS iPhone or iPad app.
You can find this app in Google Store and App Store
Learning on the Beelinguapp audiobook app ​​is fun and free for continuous reading. Learn a new language with Beelinguapp, the app that helps you learn to read and speak a new language with bilingual audiobooks. Learn with stories in different languages ​​while reading text in your language to refer to words and phrases, and listen to audio in the language you want to learn.
If you are familiar with language learning audiobooks, you will love Beelinguapp's innovative way of learning a new language. You don't have to spend time memorizing languages ​​and vocabulary. Just select the languages ​​you want to learn and read your favorite stories.
French audiobooks, Spanish audiobooks, Italian audiobooks, Chinese audiobooks, and more, Beelinguapp teaches you through fun and familiar text.
Features of Beelinguapp for Android and iOS
Learning languages ​​made easy
Learn a new language by reading different stories in the language of your choice.
Read the story in your language at the same time to learn what the words or phrases mean as you study.
It offers Spanish audiobooks, German audiobooks, French audiobooks, Chinese audiobooks, and more languages ​​for easy-to-hear audiobooks.
Listen to audiobooks in any language, even when your phone is in standby mode.
Learn languages ​​by following the audiobook player with a karaoke-style animation.
Great stories in different genres and languages
Learn languages ​​at your own pace and choose only the stories you want to read.
With the scrolling text, you can follow the story in both languages.
It offers different languages in English, German, Spanish, French, Arabs, Japanese, Korean, Portuguese, Hindi, Russian, Chinese, Italian, Turkish
Pros
No memorization, no index cards – easy to read. Learn new languages ​​at your own pace by reading your favorite stories alongside Beelinguapp
Just choose the language you want to learn, sit back and listen
Cons
The level of performance is low